"An industry veteran's pursuit of adventure in rural Portugal teaches him a valuable life lesson about finding hidden treasure in one's very midst."
What does a castle in Portugal have to do with major gift prospects? Great question! Please read on.
It was early in the afternoon of April 25th, 1991, somewhere in rural southeastern Portugal. My best friend, Brian, and I were cruising through rolling southern Portuguese countryside. This picture-perfect spring day was Portugal's national holiday–Freedom Day–which celebrates the 1974 peaceful revolution that ended a dictatorship and restored free elections.
Brian and I, both serious bike enthusiasts at the time, had decided to do a self-guided tour of the region. We carried little more than a pair of jeans, underwear and t-shirts, a bike repair kit, and a trusty map.
We pedaled through a bucolic countryside of farms and verdant meadows dotted with tranquilly grazing sheep. The sounds of fireworks and celebrations rang about us as we journeyed through villages interspersed amid the pastoral beauty. Our 21 speed, high tech bikes betrayed us as foreigners, and children in the villages often would call for us to stop to take pictures with them or allow them to inspect our bikes. The local men would invite us to sit and share a meal or a drink of their local wine. Everyone seemed happy and celebratory.
However, there was one village we entered that I will never forget.
"This place is a ghost town!"
It was comprised of cobble-stone streets, centuries-old white-washed buildings with tile roofs, and a town plaza where an imposing church stood out, as so many do in the Mediterranean south, like a stentorian god informing the populace of who was in charge of their fare land, should anyone have their doubts.
As we entered the town, we immediately noticed there were no people to be seen. Brian remarked, "This place is a ghost town!" We both wondered aloud, "Where are the celebrations, and where are the people?" We found it very odd, but we kept on pedaling, for we had a good thirty more miles of road to conquer before arriving at a village that was rumored to have a suitable guest house. We meandered around gentle curves as the road descended slightly just past the town square, and I noticed, perhaps a quarter mile in the distance, what appeared to be the ruins of an ancient castle.
Brian was about 20 yards ahead of me as I took in the sight over my left shoulder. I thought for just a moment, "I wonder if all of the townspeople are in there?" However, I talked myself out of checking it out, given the progress we were making and the inconvenience it would likely be to stop, dismount, and walk the quarter mile on the gravelly trail, only to find nothing but ruins.
But a little voice inside me rebelled (you know, the one that has rebelled inside you from time-to-time when you feel most alive). So I yelled out, "Brian! Let's check this out!" He slowed and turned. We dismounted, walked the path, and about a hundred yards from the entrance– lo and behold–we heard a faint din! As we drew nearer, it grew louder, and our faces began to grin broadly as we realized we had stumbled upon a traveler's goldmine, given the wanderlust one tends to hold in one's heart as a strapping, energetic youth.
We walked under the castle's imposing façade and entryway, entered a giant courtyard, and discovered the entire village of perhaps two thousand souls celebrating their holiday with merriment of all kinds. They greeted us as if we were long-lost friends, with warmth, broad smiles, and welcoming arms, loading our hands with glasses of beer and plates of the best local lamb either of us had ever tasted in our lives. They told us to sit, eat, and drink with them, and asked us where we were from and what we were doing in their humble village.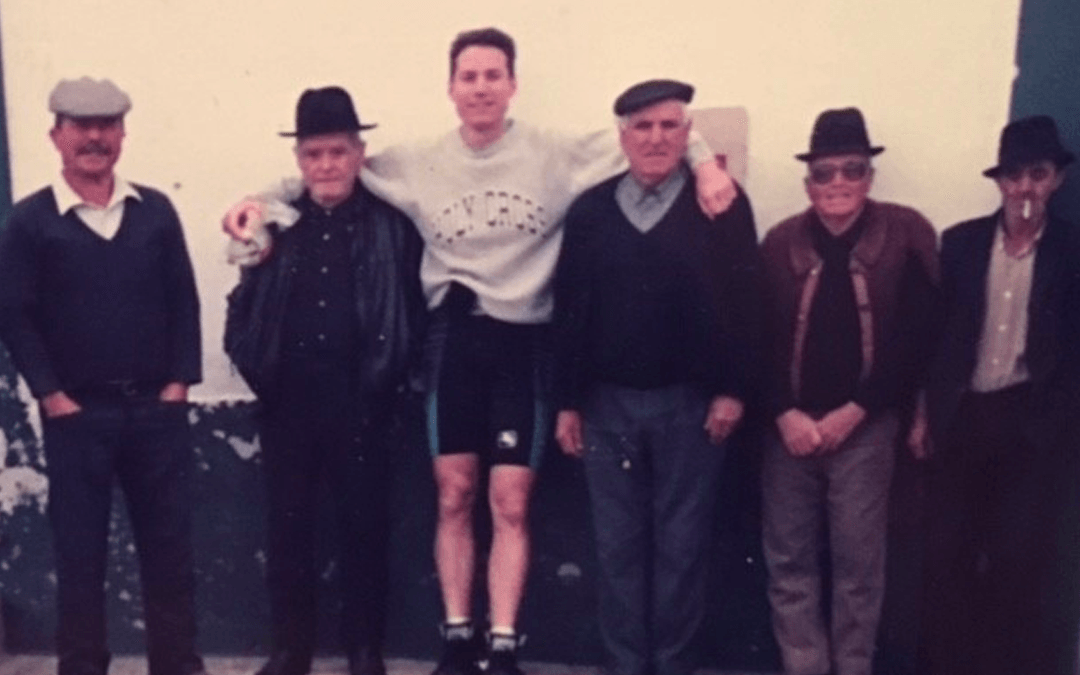 Theodore Hafner with his new friends from the village.
After two hours of speaking in broken Portuguese, we took photos, exchanged addresses and warm hugs, and bade our new friends farewell. We mounted our bikes and continued south, now very full, a little drunk, and feeling profoundly grateful for our unanticipated blessings.
Finding your major gift prospects
Like our Portuguese friends, you too have castles with a veritable goldmine just behind their walls. These castles are your hundreds of presently undiscovered major gift prospects and thousands of leadership gift prospects that are right in your midst; you just have to get off the beaten path for a moment, go a bit further, and look in the right place for them.
Rising Stars, with our state-of-the-art web-crawling technology, will enable you to do just that. We will first identify all of your public company executives, and then we will dig a couple of layers deeper into your constituent file to identify all of your private company executive prospects–those often hard to find individuals with strong indices of wealth, affinity, affluence, and all-important upward employment trajectories.
Rising Stars will provide accurate and actionable daily real-time wealth event alerts, including Insider stock sales, gifts, and buys; M&A and IPO reports, new appointment and new promotions, and new employer changes. This is provided to your prospect research team proactively, so you can engage and cultivate your best prospects well before your competition even learns about them.
Plus, with over 80 million business profiles, we will typically match to approximately 90% of your file, noting respective age, salary, title, employer, business email, phone, LinkedIn profile, circle of friends, wealth events, interests, and much more.
An annual subscription includes a screening, daily alerts, and user search accounts to access prospect profiles and to access the entire Rising Stars database. To learn more, you can contact Theodore Hafner at 703.623.5025 or email at [email protected]. 
Author's note: Brian Patrick Fimian, my best friend for life, tragically passed away on April 15th, 2020, after courageously battling pancreatic cancer for thirty-two days, upon diagnosis on March 13th. I was at his bedside.